Beyond Borders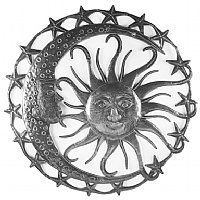 Beyond Borders works with the artisans in the village of Croix-des-Bouquets, Haiti bringing their creations to the U. S. The medium these artisans use are flattened metal from torn down oil drums. Using chisels and hammers, they cut and decorate the metal, finishing it into creative works of art.

Each piece is coated with a weather-resistant varnish. Further spraying is the a clear gloss spray varnish keeps it protected. Untreated, it may begin to rust. Spraying with WD-40 and not wiping it off, will keep the rust at a minimum. Repeat both treatments at least once a year for best results.

Bob's Flags hopes you enjoy this wonderful art form for both indoor and outdoor use. Creative and whimsical, these folk art pieces are sure to please.